The Jeff Goldblum Fans Speak Out!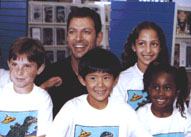 Okay, this section is really new so bear with me. Ever since I decided to create a Jeff Goldblum Fan Page, I've always been in a quest to make it unique and original, and I think this is fairly original. This is where whenever I recieve an E-mail with something interesting from a fan, or a response to a questionaire, or really anything Jeff.

If you have Jeff Goldblum news, a really interesting thought about Jeff, a dream you had with Jeff in it, or anything Jeff that you'd like to tell the World Wide Web. Just E-mail it to me!!! and please, if you don't want your E-mail address and or name on my page, please tell me! Thanx!!!!

---