SIGNS YOU ARE OBSESSED ABOUT JEFF GOLDBLUM
LEARN ALL ABOUT LITTLE MISS CHAOS
---



Okay, while you are here you might as well sign my neato Guestbook so I know you were here and I know how great you think Jeff is.!


Sign My Jeffbook
View my Jeffbook
---
Okay, everybody, I'm proud to present to you my very first award for my Jeff page. Here it is! Thanks Tatum!!!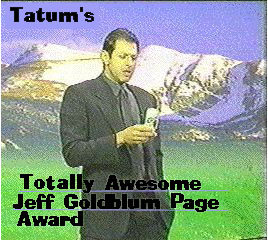 ---

This Original Jeff Goldblum Web Ring site is owned by Little Miss Chaos

Click for the
[Previous|Random| Next Site
|Skip Next|Next 5]



Click here for info on how to join The Original Jeff Goldblum Ring
According to my really nifty counter,
People have come here to worship Jeff Goldblum.